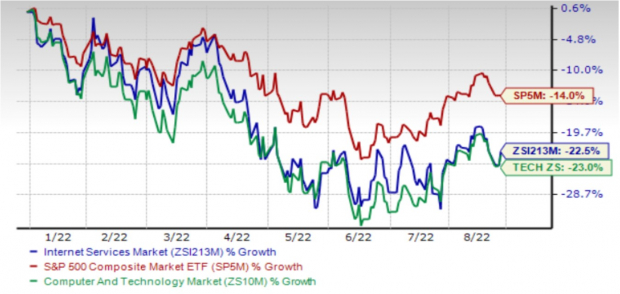 3 Internet Services Stocks for the Long Haul
Macro factors currently driving the economy, such as inflation, rate hikes, supply chain issues, a labor crunch and so forth have a varied impact on players in the extremely diverse Internet – Services industry.
 
However, since this is a capital-intensive industry with high fixed cost of operation and the fairly constant need to expand capacity, rate hikes just aren't very positive for it. This along with rising inflation and ongoing concerns about a recession in the offing is weighing on stocks. Therefore, valuations are low and the opportunity to profit from long-term bets exists.
 
Our picks are Tencent (TCEHY), JOYY (YY) and Crexendo (CXDO).
About the Industry
Internet – Services companies are primarily those that rely on huge software and hardware infrastructure, referred to as their properties, to deliver various services to consumers. Therefore, people can avail the services by accessing these properties with their personal connected devices from almost anywhere in the world.
Companies in the sector generally operate two models: an ad based model where the service is offered free and an ad free model where they charge for the service. Alphabet (GOOGL), Baidu (BIDU) and Akamai (AKAM) are some of the larger players in the space while Dropbox (DBX), Etsy (ETSY), Shopify (SHOP), Uber (UBER), Lyft (LYFT) and Trivago (TRVG) are some of the emerging players.
Because of the diversity of services offered, it is difficult to identify industrywide factors that could affect all players. All the macro factors c
Factors Shaping The Industry
It goes without saying that increased digitization of different aspects of daily life is a driver for the entire industry because digitization essentially transfers work online, which is where Internet service providers are required. To that extent, the pandemic has proved course-altering for the industry because of the huge volume of transactions that moved online. And people are not giving up all of these conveniences to go back to their old ways. This is reflected in the continued revenue growth since.
The installed base of connected devices continues to grow beyond PCs and smartphones to IoT, automotive and more, creating additional opportunities for targeting. The ownership of multiple devices automatically drives people to use these services more as they increasingly automate routine chores.
Over the last few years, companies have been investing a lot of their cash into infrastructure that could support the surging demand they have been seeing. As a result, debt levels have increased across the industry and liquidity remains low.
Traffic acquisition is one of the most important drivers of revenue, so companies invest in advertising or building communities that can draw more users to their online properties and get them to spend more time there, much like a store owner would try to keep a prospective buyer within the store. Some large players, including those providing infrastructure services, grow by tying up with other such large players for access to their customers. Since the personal touch is absent in an online store, many rely on cookies and other technologies to track users, collect data on them and profile them in order to better understand their needs.
As these companies have grown over time, some of them have collected such a wealth of information on their users that the data itself is now helping them build artificial intelligence (AI) to lower cost and generate revenues from new technologies and services. As a result, ad-based services are no longer considered free in some parts of the world and the EU in particular has framed a complex law in GDPR that requires service providers to acquire explicit permission from users before collecting their data.
While not all businesses are built on the same scale or have the same customer reach, the scope for growth is huge. For companies that are already pursuing research in AI, the prospects are even brighter.
Zacks Industry Rank Indicates Mixed Prospects
The Zacks Internet – Services industry is housed within the broader Zacks Computer and Technology sector. It carries a Zacks Industry Rank #78, which places it among the top 31% of more than 250 Zacks-classified industries.
The group's Zacks Industry Rank, which is basically the average rank of all the member stocks, indicates that there may be opportunities in the space. But the diverse range of companies means that stock selection will be key.
Looking at the aggregate earnings estimate revisions over the past year, we see that estimates had been rising up to March, but dropped back sharply thereafter, most probably because of the Fed's hawkish stance and fears of an impending recession. Additionally, the inclusion of certain larger companies like Alphabet in the group can result in skewed averages. Overall, it looks as though analysts have turned cautious about the group's earnings growth potential of late. The industry's earnings estimate for the current year is down 12.6% from August 2019. The average earnings estimate for 2023 is down 12.9%.
Historically however, the top 50% of the Zacks-ranked industries outperforms the bottom 50% by a factor of more than 2 to 1. So the industry's positioning in the top 50% of the Zacks-ranked industries should be considered a positive. Especially because a recession is not a done deal and there are several factors indicating that it may not be too bad.
Before we present a few stocks that you may want to consider for your portfolio, let's take a look at the industry's recent stock-market performance and valuation picture.
Industry Leads on Stock Market Performance
Over the past year, the industry has traded at a discount to the S&P 500 and more or less in line with the broader Zacks Computer and Technology Sector.
The industry has lost 22.5% of its value over this period compared to the S&P 500 index's loss of 14.0% and broader sector's loss of 23.0%.
One-Year Price Performance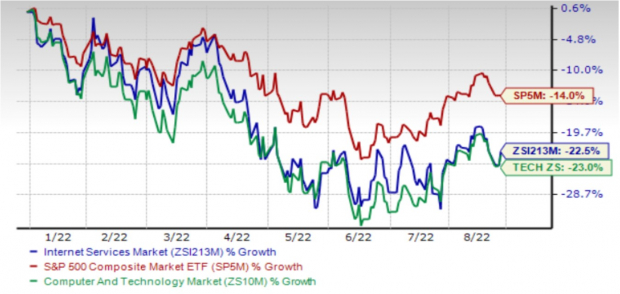 Image Source: Zacks Investment Research
Industry's Current Valuation
On the basis of forward 12-month price-to-earnings (P/E) ratio, which is a commonly used multiple for valuing technology companies, we see that the industry is currently trading at a 22.87X multiple, which is below its median value of 24.66X. However, the multiple is above the S&P 500's 17.94X and about in line with the sector's 22.47X, suggesting a reasonable valuation.
Forward 12 Month Price-to-Earnings (P/E) Ratio


Image Source: Zacks Investment Research
3 Stocks With Promise
Tencent Holdings Limited (TCEHY): Tencent provides value-added services (VAS), online advertising, fintech and business services in Mainland China and internationally.
Tencent reported a first-ever revenue decline in its last quarter, but results were better than feared. Management is now focused on curbing the expansion plans of prior years to focus on cost cutting an profitability, which will ultimately be beneficial for shareholders. Just like its America peers, the company's cloud computing business (housed within the fintech and business services segment) has become its fastest-growing and here too, it is taking measures to focus on more lucrative deals, as well as expansion beyond infrastructure to services.
Tencent's earnings in the last quarter came in 47.6% ahead of the Zacks Consensus Estimate on top of revenue that beat by 1.0%. In response, analysts raised their 2022 earnings estimate by 12% and the 2023 estimate by 4.6%.
The shares of this Zacks Rank #1 (Strong Buy) stock are down 28.3% over the past year.
Price and Consensus: TCEHY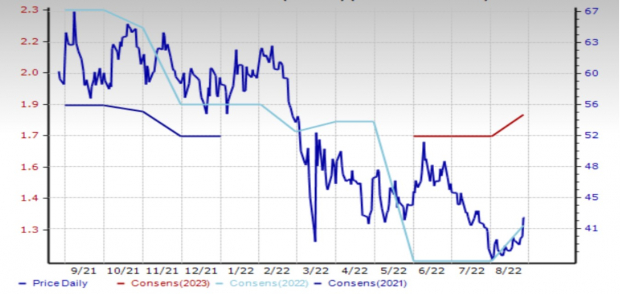 Image Source: Zacks Investment Research
JOYY Inc. YY: The company operates the video and audio-based social media platforms Bigo Live, Likee, Hago and imo that are active across China, U.S., Great Britain, Japan, Korea and other Asian countries.
While JOYY has been hit by the macroeconomic uncertainties and challenges just like every other company, its diversified global product matrix and operating efficiency improvements are allowing it to generate continued profitability improvement.
JOYY thrashed analyst earnings estimates by 50.0% on sales that beat by 3.2%. 2022 estimates jumped 213.6% in response while 2023 estimates increased 18.3%.
The shares of this #2-ranked company are down 47.7% over the past year.
Price and Consensus: YY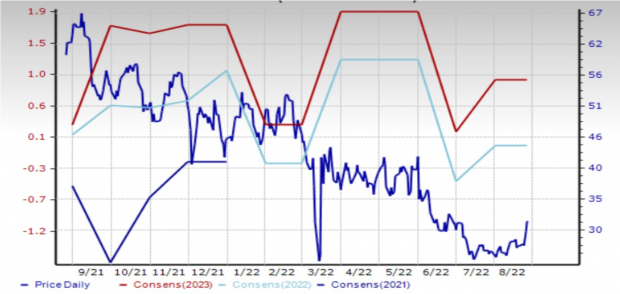 Image Source: Zacks Investment Research
Crexendo, Inc. CXDO: The company provides Unified Communications as a Service (UCaaS), Call Center as a Service (CCaaS), communication platform software solutions and collaboration services with video designed to provide enterprise-class cloud communication solutions to businesses of all sizes through its business partners, software licensees, agents and direct channels. Its solutions currently support over 2.5 million end users globally.
Crexendo is recognized as an important player in the cloud communications segment, which is a nascent market with tremendous growth opportunities. According to a Frost & Sullivan report which management has quoted, the UCaaS market is expected to grow at the rate of 9.5% from $15.8 billion to $24.8 billion between 2019 and 2024. The firm's survey showed that 29% of respondents intended to move their videoconferencing to the cloud over the next two years, 35% intended to move their instant messaging, 38% their customer experience management and 38% their enterprise IP telephony. So this represents huge growth opportunity. Frost & Sullivan also recognizes Crexendo as the fastest-growing UCaaS platform in the US.
Crexendo missed the Zacks Consensus Estimate by three cents on revenue that beat by 5.7%. Analysts currently expect revenue and earnings to grow double-digits both in 2022 and 2023. In the last 30 days, estimates for both years have increased by 3 cents, representing 60% and 37.5% growth, respectively.
The shares of this Zacks Rank #2 company are down 49.6% over the past year.
Price and Consensus: CXDO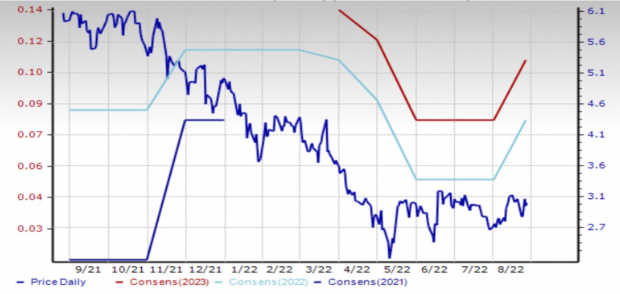 Image Source: Zacks Investment Research
Just Released: Zacks Top 10 Stocks for 2022
In addition to the investment ideas discussed above, would you like to know about our 10 top picks for the entirety of 2022?
From inception in 2012 through 2021, the Zacks Top 10 Stocks portfolios gained an impressive +1,001.2% versus the S&P 500's +348.7%. Now our Director of Research has combed through 4,000 companies covered by the Zacks Rank and has handpicked the best 10 tickers to buy and hold. Don't miss your chance to get in…because the sooner you do, the more upside you stand to grab.See Stocks Now >>
Want the latest recommendations from Zacks Investment Research? Today, you can download 7 Best Stocks for the Next 30 Days. Click to get this free report
 
Tencent Holding Ltd. (TCEHY): Free Stock Analysis Report
 
JOYY Inc. Sponsored ADR (YY): Free Stock Analysis Report
 
Crexendo Inc. (CXDO): Free Stock Analysis Report
 
To read this article on Zacks.com click here.
 
Zacks Investment Research
The views and opinions expressed herein are the views and opinions of the author and do not necessarily reflect those of Nasdaq, Inc.