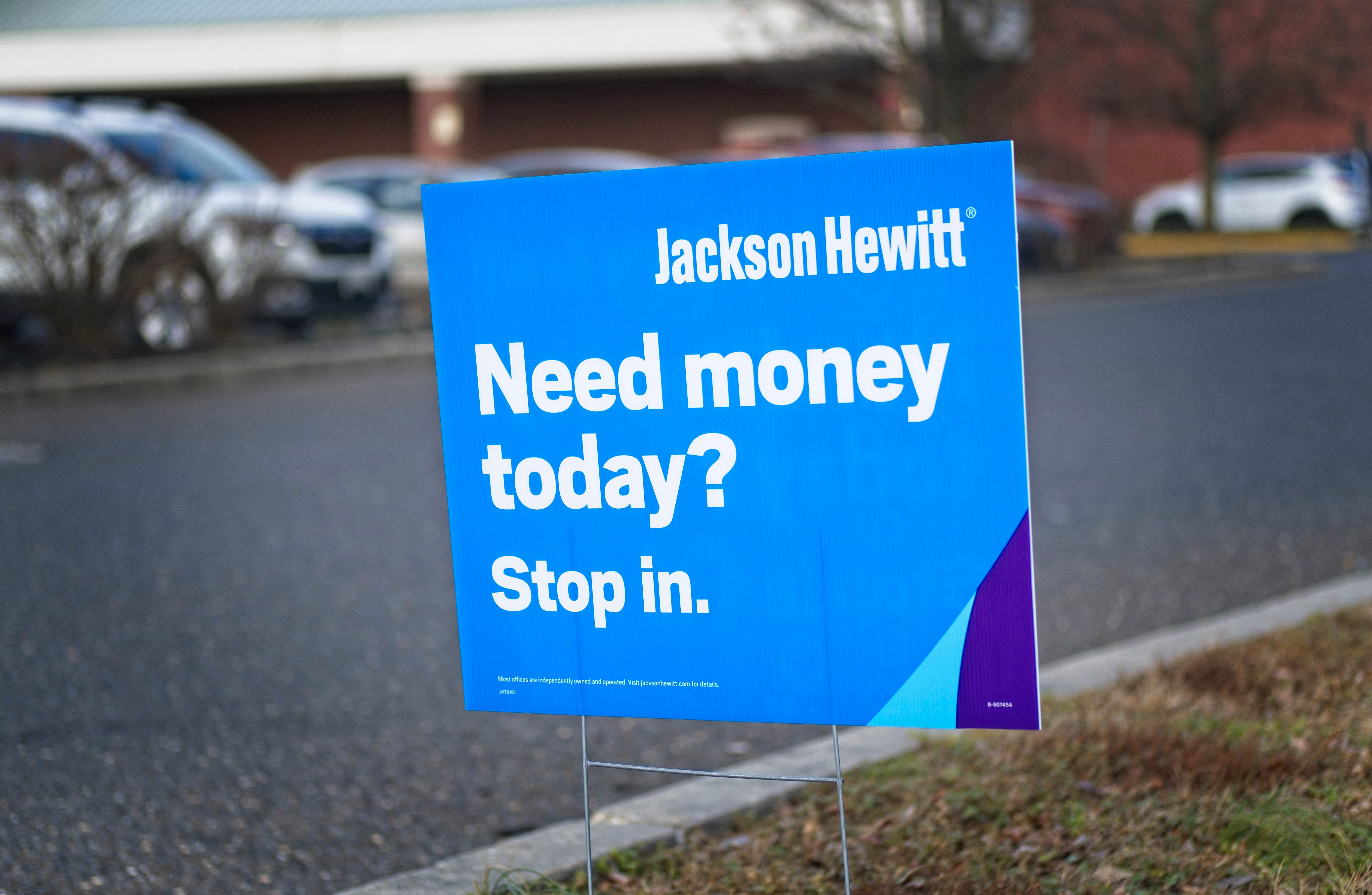 Advance tax refund provider raises loan limit to $7,000 amid raging inflation
More Americans may seek advances against their income tax refunds this tax season as rising prices strain budgets and government stimulus programs end.
Santa Barbara Tax Products Group increased the size of its advance refund loans to $7,000 from $6,000 and extended loan availability by two weeks to Mar. 17. The firm processes 20% of refunds issued by the IRS and manages refund loans for some tax preparers and accounting firms.
The increases come as a survey last month by tax preparation firm H&R Block showed 69% of employed individuals are "extremely concerned" about inflation.
Those over age of 40, women, single moms, and people with fair to poor credit are most likely to have experienced a worsened financial situation, with fewer work hours, no raises, and higher prices primarily to blame.
H&R Block in among tax preparers and tax software companies that offer loans against anticipated tax refunds.
"For many, this is their single largest financial event of the year," H&R Block told FOX Business. Last year over 96 million filers received refunds averaging $3,039, according to IRS data.
Some taxpayer cannot wait for their money. The IRS aims to issue most refunds in fewer than 21 days for taxpayers who file electronically and choose direct deposit. However, the service will not begin accepting returns until Jan. 23.
"One big change this year is that most temporary COVID-19 relief measures and programs have expired," says H&R Block Chief Tax Officer Kathy Pickering. "These include the Recovery Rebate Credit, the expanded Earned Income Tax Credit, Child Tax Credit, and dependent care credit for individuals."
For example, President Joe Biden's American Rescue Plan increased the child tax credit to $3,000 for each qualifying child between ages 6 and 17 and to $3,600 for each qualifying child under age 6 — but only for 2021. The law also offered early payments of up to 50% of the estimated amount.
For the 2022 tax year, there were no advance payments, and the credit dropped back to $2,000 per child.
Many tax refund loans come with no finance charges or loan fees. However, you may pay a tax preparation or software fee and/or an electronic filing fee.
TRUMP TAX RETURNS: IRS HOBBY RULES PUT $1.1M OF DEDUCTIONS AT RISK
H&R Block Refund Advance ($3,500)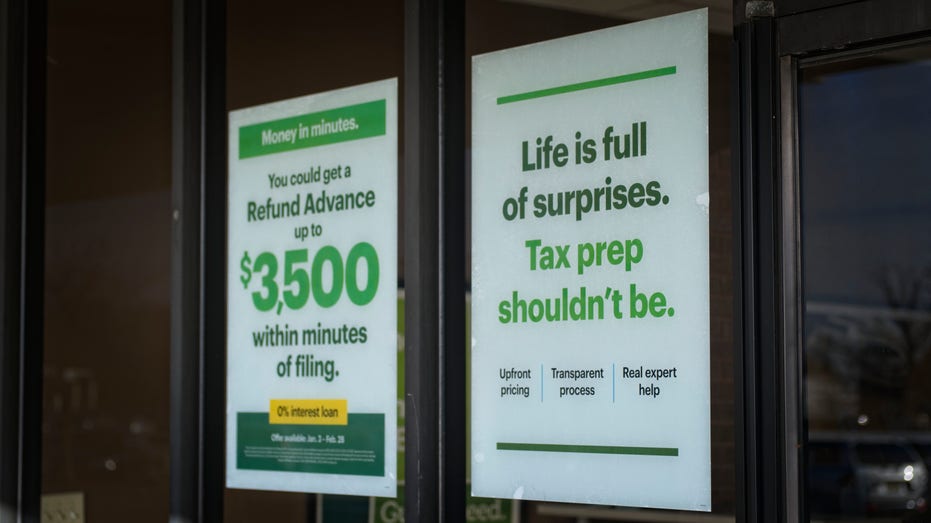 Refund Advance through Pathward, N.A. offers loans of $250, $500, $750, $1,250 or $3,500. You can apply through Feb. 28. If approved, the funds are available on a prepaid debit card within minutes after your taxes are filed. The loan has no finance charge or loan fees and 0% annual percentage rate (APR).
Ticker
Security
Last
Change
Change %
HRB
H&R BLOCK INC.
37.85
+0.26
+0.69%
IRS SAYS AVOID 'SURPRISE' TAX BILL BY MAKING FOURTH-QUARTER PAYMENT BEFORE JAN. 17
TurboTax Refund Advance ($4,000)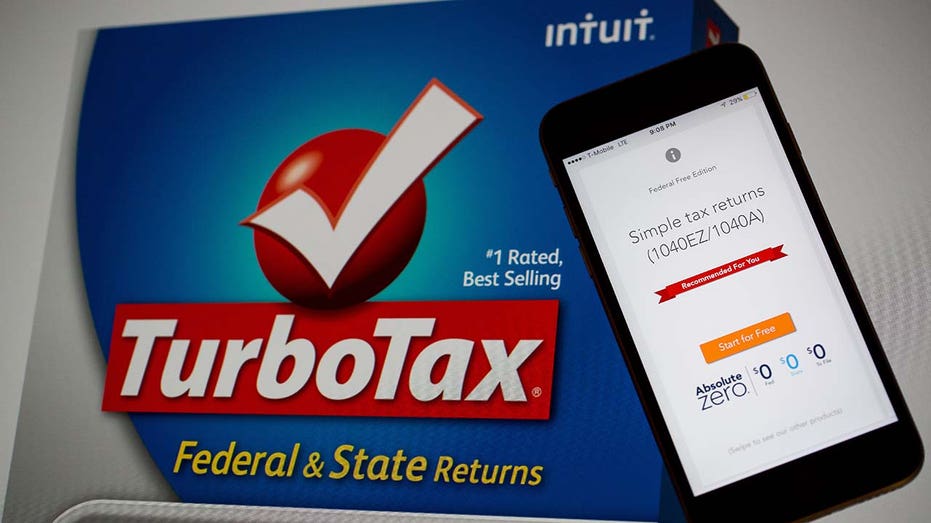 Intuit's TurboTax offers loans through First Century Bank, N.A. in 10 amounts from $250 to $4,000 for filers with refunds of at least $500. If approved, your money will be deposited into a Credit Karma MoneySpend (checking) account as quickly as one minute after the IRS accepts your e-filed federal return. Funds are accessible online through a virtual card and a physical Visa debit card. Refund Advance is available through Feb. 15. The loan has a 0% APR and $0 loan fees.
Ticker
Security
Last
Change
Change %
INTU
INTUIT INC.
393.21
-3.49
-0.88%
IRS SAYS YOUR TAX REFUND COULD BE SMALLER IN 2023 — HERE'S WHY
Jackson Hewitt Tax Refund Advance and No Fee Advance ($4,500)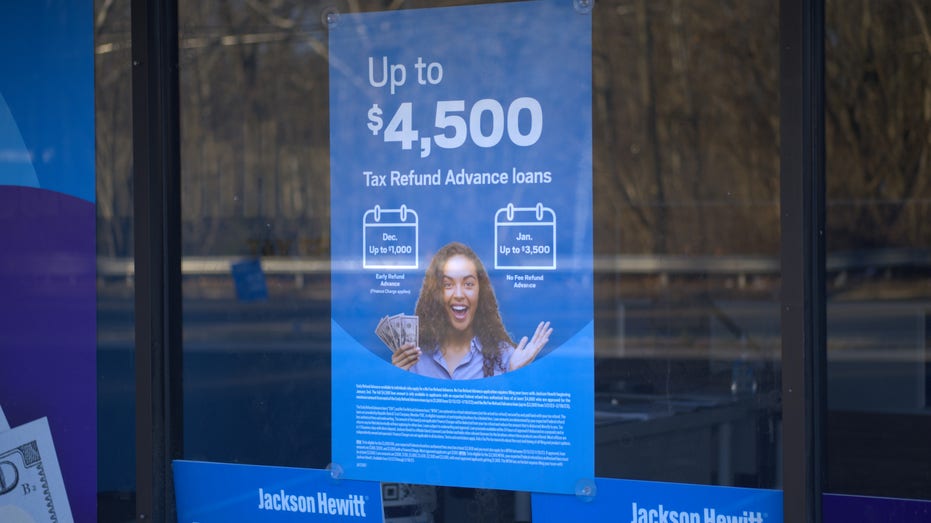 Jackson Hewitt offers two loan products.
Tax Refund Advance loans of $300, $500 and $1,000 were available through Jan. 15. They were limited to borrowers who also apply for a No Fee Refund Advance. 
Both loans are provided by Republic Bank & Trust. If approved, loan proceeds will be available within 24 hours if disbursed on an American Express prepaid card or in 1-5 business days with direct deposit.
TRA loans come with a 6% finance charge, so a $500 loan would include a $30 charge, equal to an APR of 34.22%.
No Fee Advance loans are available in amounts between $500 and $3,500. The offer is available though Feb. 19. The loan has no fees and 0% APR.
STILL MISSING YOUR TAX REFUND? THE IRS WILL SOON PAY YOU 7% INTEREST
Fast Cash Advance ($7,000)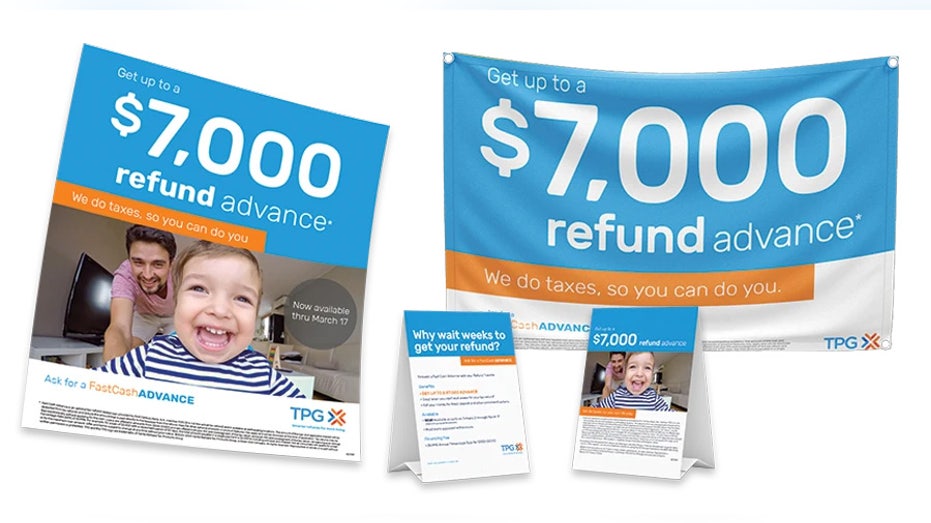 Tax preparers can offer Fast Cash Advance loans through First Century Bank in amounts between $500-$7,000. If approved, your money will be available by check, direct deposit or GO2bank Visa debt card.
All loans have an APR of 35.99%.
Ticker
Security
Last
Change
Change %
GDOT
GREEN DOT CORP.
17.54
-0.34
-1.90%
GET FOX BUSINESS ON THE GO BY CLICKING HERE