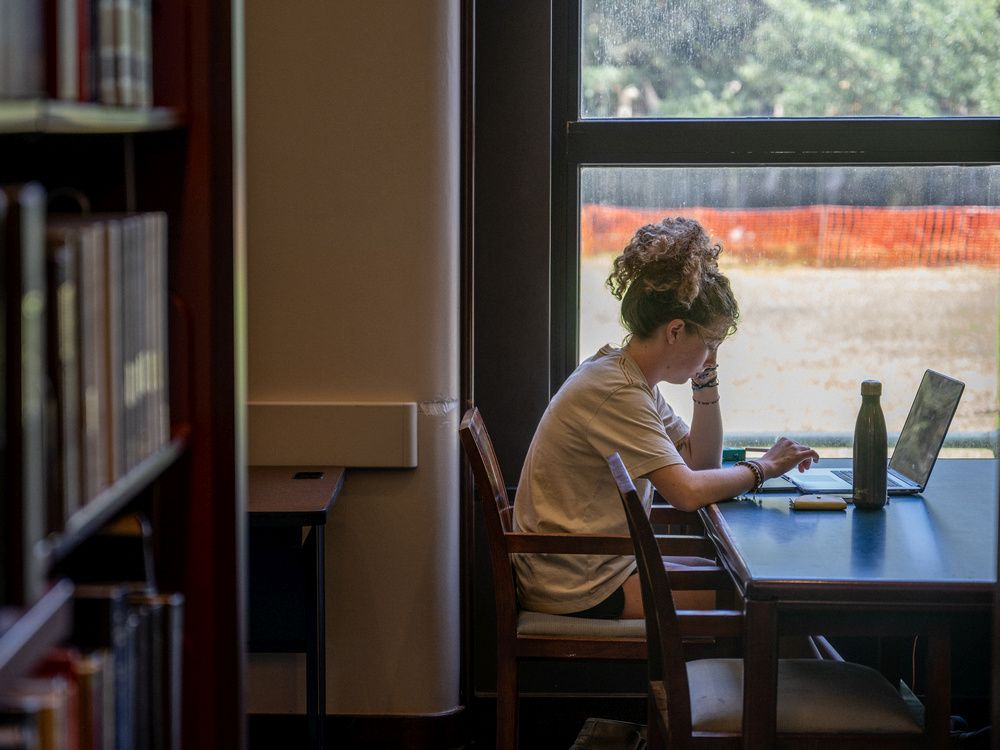 University comes with necessary financial education: How to do it right
Post-secondary students face endless demands on time and energy. Manage money effectively to reduce financial stress, making it easier to focus on school.
Article content
Q: Our kids worked part-time throughout the last years of high school and chose to put some of what they earned away toward their future education costs. The rest of their spending went toward what they wanted, as long as they gave us what they owed toward their monthly cell phone bills. Our oldest was especially good with his money and was able to move out and also buy a car, but our other son and daughter tended to spend their money on clothes and electronics as fast as they earned it. Our younger two are now starting their post-secondary education. We're helping to pay for school, but there's a lot they still need to cover. What can we do to help them start off right and not feel so overwhelmed? ~Andy 
Article content
A: As parents, we're familiar with juggling competing financial priorities that impact our family's lifestyle. We have to decide if we should take the family camping or pay the mortgage. Attend a concert or pay the rent? Pay for soccer or piano lessons or use the money toward groceries? Back-to-school shopping or money for all the bills we already have?  
Article content
Many post-secondary students don't have experience making these types of money decisions. Once they realize that these choices are now in their hands, it can lead to a lot of stress. It's really the first time many of them are responsible for paying for not only their lifestyle expenses, but their day-to-day essentials too. In addition, while some will have help paying for their educational costs, others will have the added stress of finding ways to fund their education.  
Article content
Retirement or Paying for Kids' Education? 
When it comes to money though, it's never too late to learn. A lot changes during a significant life transition, such as starting college or university, so even for those who feel confident in their money skills, it's a great time to review what's working and what isn't. With that in mind, here are tips to help kids start their post-secondary year off right: 
Outline a realistic budget
Most students don't establish and actively live according to a budget, so that's a crucial first step to take. But budgeting during the post-secondary education years can be challenging. Here's a special interactive calculator that helps students account for their various sources of income and the expenses they need to anticipate for the term as well as the next eight to 12 months. 
Article content
Canadian Student Budgeting & Personal Finance Calculator 
Students who use a budget know where they stand and can make choices and changes based on what they can afford, not a best guess that could lead to debt or running out of money before their semester is over. If you're using student loans, budget the money carefully and don't spend it impractically. While it might feel like free money right now, there is a lifetime limit and you will need to repay what you borrow. 
How to Prevent Big Student Loan Debt 
Curtail the biggest expenses
Tuition, accommodation, food, and transportation are four of the biggest expenses any student faces, so it's wise to make frugal choices in these categories as often as possible. When it comes to tuition, apply for every scholarship, grant and bursary you're eligible for. Ask family to contribute to education costs for birthdays and special occasions instead of buying other gifts. Meet with an academic adviser early on to plan your course schedule as efficiently as possible.  
Article content
How to Pay for College or University Without Getting Into Major Debt 
Look for the most affordable accommodation you can find. If living at home rent free is possible, take your parents up on their offer. It will save you thousands of dollars, which can be used toward other expenses while you're studying. If you're itching to move out, do the math and let your overall budget be your guide before you start packing your boxes.   
Practical Money Management Tips for Post-Secondary Students 
A lot of students aren't able to live close to campus this year due to the extreme demand on rental housing in most big cities across Canada. Where you live in relation to where you are going to school will impact your transportation costs, so if you can't save money, save time. Find the most economical method of transport and look for ways to make it work. If you can take transit, arrange your time so that you can review your notes on the bus. If you can carpool, try to find carpool buddies who are taking the same classes as you are. Talk about what you're learning to help the lessons sink in faster. When biking, walking, or driving, listen to a recording of the lecture or a podcast on a related topic to make learning that much easier.   
Article content
When it comes to food, get into the habit of grocery shopping with a list and planning your meals and snacks. Save buying lunch between classes, picking up take out on the way home, or getting food delivered while you study for the occasional treat. The same goes for pub nights and coffee or tea with friends. Budget your grocery and food money carefully so that you don't end up relying on a credit card and getting into debt for essential living costs.  
Is Getting a Student Loan Worth It or Not? 
Resist giving in to peer pressure or FOMO
The return to in-person learning comes with certain temptations and you may even have a fear of missing out (FOMO) if you don't participate in specific expenses. However, allowing your peers to dictate how you spend your money is not a wise choice. Stick to doing what worked for you while you learned virtually. Keep using your older electronic devices as long as they work and resist a shopping spree to replace your pandemic wardrobe. If you need a few new pieces, buy only what you need. The desire to catch up and spend on everything you think you missed is real. Learn to recognize that feeling and then take steps to shop mindfully, not impulsively.