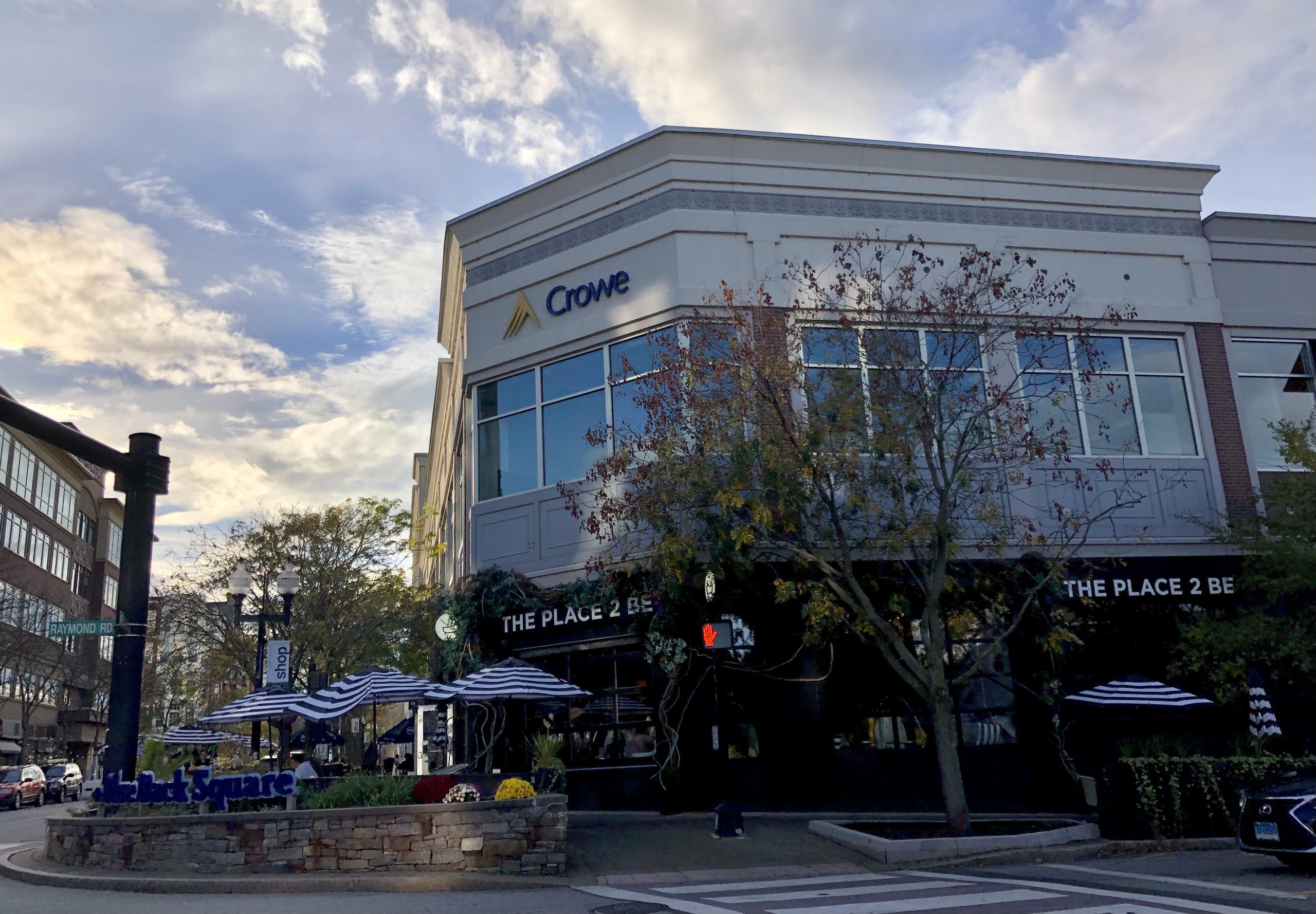 West Hartford Business Buzz: November 1, 2021 – We-Ha
A round-up of openings, closings, and other news about West Hartford businesses.
By Ronni Newton
I'm writing this on Sunday, hoping I'm going to get interrupted by some cute (or scary) costumed kids ringing my bell!
Until I saw my Facebook memory from 2020, I had forgotten that last year on Halloween it had snowed, and also that we stood on our front stoop, wearing masks, dropping candy down a chute we had created every time a trick-or-treater approached. I'm glad things are a bit more back to normal – and very glad there isn't any snow on the ground!
Thanks to the sports fans in the community who have helped supplement the great coverage that Paul Palmer has been providing of the Conard and Hall teams – which this week includes the Hall vs. Conard swim meet and Hall girls soccer. We've also been able to have a story about Conard boys soccer, and the 7-0 Hall football team thanks to contributors. There are a number of Conard vs. Hall contests coming up this week, so look for those stories!
My initial COVID-19 vaccine was a J&J shot, which makes me eligible for a booster – which I got on Friday afternoon. I received the Moderna booster, and was very glad I didn't get the major side effects that so many people I know got from their initial Moderna shots. My arm is still a bit sore, and I had a headache Saturday morning and some slight achiness, but even if I had felt awful I would think it was a very small price to pay for the extra boost to my immune system.
For more information about vaccination clinics that are being organized by the West Hartford-Bloomfield Health District, and a guideline for who is eligible for boosters, click here.
I did feel well enough to go out for dinner Saturday night, and on a wet and dreary evening Zaytoon's Bistro on Park Road provided the perfect meal. Ted and I started off with the spicy hummus platter (a favorite that we order every time), and I had the Lamb Mushroom while Ted had the Lamb Tomato Qalayeh. We couldn't resist the delicious Halawa for dessert – but I forgot to take a photo of that before we started eating it!
I'm looking ahead to a busy start of the week with Election Day. I put together a complete guide, with information about polling places, last minute absentee ballot voting and Election Day registration, and links to all of the candidate profiles that you can find here. And tune in to WHCi (via cable, YouTube, or Facebook Live on the We-Ha.com page) on Tuesday night when John Lyons and Sandy Holland will be in studio and I will be bringing you up-to-date coverage, along with the team of Rocky Holland and Pat Kazakoff, at party headquarters. We did a tech run last week and are ready to go!
We've gotten a ton of letters to the editor supporting various candidates (the deadline for submitting them was last Friday), and if you want to easily find them all just click this link.
And speaking of elections, I was very excited to learn earlier this week that We-Ha.com has been named among the "Top 15 Connecticut Politics Blogs and News Websites" by Feedspot. We are in some very esteemed company!
Please continue to support our local businesses, wear your masks indoors if you are not vaccinated – and stay safe and healthy.
If you have information to share about local businesses, please provide details in the comments or email Ronni Newton at [email protected].
**************************************************
Here's this week's Buzz:
We don't often hear about large-scale new offices moving into West Hartford, but it's great news that Crowe, an accounting, consulting, and technology firm, has moved into West Hartford (from Simsbury, where they have been since 2015), taking over the roughly 8,000 square foot space in Blue Back Square at 62 Memorial Rd. (above The Place 2 Be) formerly occupied by Burgess Group. "Crowe Hartford personnel provide a range of services to clients that include property and casualty insurance carriers, captive insurance companies, various healthcare entities, and employee benefit plan clients," the website states. The company has more than 4,000 employees in offices throughout the world, and West Hartford is their only Connecticut location. While not everyone may be physically back in the office full-time yet, there are 65 employees working out of the West Hartford space, according to West Hartford Economic Development Coordinator Kristen Gorski. "In a nationally slow office market, this is a really good relocation to town," she said. The company is very forward-thinking, Gorski said, and "will be a great addition to the West Hartford community." The "Crowe" sign is now in place in that prominent location at the corner of Memorial Road and Raymond Road, replacing the former Burgess sign. Burgess, a medical billing firm, was acquired by Blackstone Group in 2020, according to the Hartford Business Journal.
West Hartford resident Devin Shea is "moving full speed ahead" to focus on the business she recently launched. Waddle & Climb provides soft playground equipment for rent, and Shea, a former director of marketing and event and wedding planner, started the company after realizing a need when she was trying to plan a 1st birthday party last year for her daughter amid the COVID-19 pandemic. "We wanted to celebrate with our pod, but didn't want to go anywhere," she said. That's when she started looking into renting equipment. "There was nothing. Everything was catered to bigger kids." She bought a few items for her own yard and playroom that would be appropriate for kids from the crawling age through 5-year-olds, saw how engaged her daughter was, and that led to the launch of the Waddle & Climb business. "We go to any event – birthday, bridal, corporate events, fairs," she said, anywhere there is a need for babies, toddlers, and other young children to have a safe place to play. The pandemic has really been really tough for parents of young children to make connections with others, and Shea said she's very grateful to have found the Moms & More Club of West Hartford. "They have been so welcoming and supporting. Everyone has been truly wonderful," Shea said. Club member Bobbi Castiglione has graciously offered to host a Moms & More event featuring Waddle & Climb at the business she owns with her husband, Eric, Viking Athletics in West Hartford. Events over the summer have been primarily outdoors, but as the weather is cooling, Shea is gearing up for more indoor events, and also has a new neutral palette package that will soon be available. She said after use she cleans everything "above and beyond" the standards set by the Centers for Disease Control and Prevention. "Safety is our no. 1 priority," she said. For more information about Waddle & Climb, visit their website or Facebook page. The photos were so cute that more can be found at the end of the column!
West Hartford Center and Blue Back Square businesses are gearing up for their annual "We Care Card" giving event where participants can "SHOP, DINE, STROLL and GIVE." The We Care Card, now in its fourth year, will be available from Nov. 4-14. Donations start at $50 – all of which benefit Harc, an organization which supports individuals of all ages who have intellectual and related disabilities and their families so that they may enjoy lives of quality, inclusion, and dignity. We Care Card supporters also get up to 20% off at all participating businesses for the entire duration of the event. Ken Cabral, president and CEO of Harc, hopes this is the start of a long partnership. "Harc is honored to be selected as the nonprofit to receive the proceeds from the We Care Card program. We are excited to further our connection with the businesses and shoppers of West Hartford beyond our LaSalle Road social enterprise, SockStarz. With this extended reach, we hope to educate a broader audience on Harc's mission, and how we support people with intellectual and developmental disabilities." Kimberly Moster of Kimberly Boutique said, "This is a great way for all of us to give back. Everyone feels good about supporting Harc, and then to get 20% off for 10 days in The Center – it's a win-win!" We Care Cards are available for purchase starting Nov. 4 at SockStarz (18 LaSalle Rd.) and other participating locations – or you can text-to-purchase by texting WeCareCard to 41444. For any further information please contact Kimberly Moster of the West Hartford Center Business Association at 860-523-4894. See the poster below for more details!
Bluemoon Smoke Shop will soon be opening in the former Sprint store at 39 South Main St. The sign is now on the building and the business, based in the Boston area, "is very excited to join the West Hartford community," West Hartford Economic Development Coordinator Kristen Gorski said.
Ivy Rehab, a physical and occupational therapy business, has leased the final remaining vacant space in the Corbin Collection building where Shake Shack is located. They will be opening in the end space (closest to REI), next to Tavern in the Square, which is next to Hot Table – which we reported in this column last week is preparing to open at by the end of this year. Ivy Rehab has six other locations in Connecticut, with the closest in Southington. More information can be found on their website.
The sign is now in place, and 0 Degree Thai Ice Cream has applied for additional permits and continues work on the build-out of the space at 276 Park Rd. No word on an opening date.
Congratulations to West Hartford native and Hall High School graduate Jessica Rosenworcel. In January she was named acting chairwoman of the Federal Communications Commission, and last week she was officially nominated by President Joe Biden to chair the FCC. "Jessica Rosenworcel is a star – supremely expert and experienced, steadfast and committed as an advocate for consumers and competitors," U.S. Sen. Richard Blumenthal, who along with 24 of his Senate colleagues urged the president to nominate her for a full term as chair, said in a statement. "Having worked with her over many years, I know first-hand her energetic dedication to cracking down on robocalls and other abuses, and expanding broadband access. She knows better than anyone else the vital role the Commission plays in protecting consumers and closing the digital divide by connecting Americans to essential services. I am especially proud of her deep Connecticut roots as a native of West Hartford and graduate of Wesleyan University. I look forward to working with soon-to-be Chair Rosenworcel as she continues her bold leadership of the FCC."
Hartford Baking Company, which has its roots in West Hartford, is getting set to open their new location in the next week or so in Farmington, in the former Truffles space on Route 4 (767 Farmington Ave.). Follow their Facebook page for the announcement of the opening date.
We don't typically post open jobs, but this one is for a position that will be closely connected to this column! The Town of West Hartford is hiring a part-time economic development specialist to work under the direction of Economic Development Coordinator Kristen Gorski. Details about the job can be found here.
ICYMI, Celebrate! West Hartford will be making a full return in June 2022, and newly-opened PeoplesBank has signed on as presenting sponsor. Click here for the details.
Remember, if you have any business news to share, add it in the comments section below or email Ronni Newton at [email protected].
Like what you see here? Click here to subscribe to We-Ha's newsletter so you'll always be in the know about what's happening in West Hartford! Click the blue button below to become a supporter of We-Ha.com and our efforts to continue producing quality journalism.